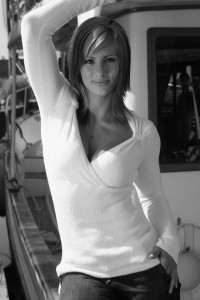 Although she has been seen as a gladiator on the prime time scene, in real life and at heart, Jennifer Widerstrom's true ambitions lie with her ability to help people. "My passion is people," she states as she describes why she chooses to live her life in service of others. From trips to Iraq and Korea to visit our troops, to "Lift for Life" campaigns; Jennifer has been working toward showing people the value of believing in and supporting the individual at your side, in your neighborhood, on the street. "Whether strangers or lovers or life long friends, we're all meant to instill compassion and light within one another."
Jennifer has starred in NBC's "American Gladiators", hosted a fitness infomercial for Weider/Icon Fitness and the pilot entitled "Your Gym at Home." She has also modeled in nationwide advertising campaigns for Optimum Nutrition as well as in the latest Athleta catalog. These opportunities have given Jennifer the platform to use her philanthropic ambitions to contribute to charities through personal appearances, signings and hosting events, such as the Muscular Dystrophy Association and Marklund Fund.
This past summer Jennifer traveled to Rwanda, Africa with Kids Play International, in which she helped promote interactive and educational sports program for kids in orphanages and schools. Her worked with KPI began last year when she volunteered in both Malawi and Nairobi doing similar work at Mtendere Village through 100X missions. Jennifer has also spent part of her year on another Goodwill Military tour in for our troops in Korea's Green Zone, raising the morale of our service men and women through MWR.
Jennifer's desire to personal train the lives of women and men, has brought her to be a fitness instructor at Pulse Fitness Studio. Her group training encourages camaraderie and motivation, while her personal training is tailored to enlist the confidence of her clients own abilities to reach their goals. Investing in others has always been her passion and she's confident that she can help each person reach a higher level of achievement in every session that will carry beyond the walls of the studio.